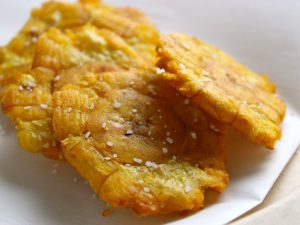 This week I had my first experience tasting Tostones, a Latin American dish of fried plantains..and I couldn't get enough!
Plantains are sometimes referred to as "the pasta and potatoes of the Caribbean." They are most commonly recognized as a banana– Although they taste much less sweet and are not as sugary.
I am sharing this NEW FOOD FIND with you because while they are fried, they are a great replacement to chips or bread, and can be baked and made with olive or coconut oil for a healthier version…
Plantains are also available in supermarkets all year round, and can be a great new fruit staple to add to your shopping list. They are a great option for those who are Gluten-Free or sticking to a Paleo-friendly diet.
Plantains or cooked Tostones can be served plain, with dipping sauces, or topped with salsa, guacamole, or even almond butter. The combinations and tastes are endless. The cooked plantains make a hearty base for whatever flavors you want to top your bite with.
I post today because they would make for an amazing addition to your Holiday party menu; Easy individual bites for guests…The perfect appetizer!
HEALTH BENEFITS

:
Highly nutritions

Great source of potassium, magnesium, Vitamins A & C

Full of fiber and help regulate the digestive system

Help fight harmful free radical damage in your body

Boosts immune system

Promotes healthy brain function

Can help strengthen the lining of your stomach and used as a homeopathic remedy in the prevention of stomach ulcers

High in dietary fiber

Energy Booster/High in carbohydrates. This is good for energy; especially pre or post workout
Try the below fresh salsa recipe to top on your Tostones, for a bright, fresh and colorful bite!
INGREDIENTS

:
2 Plantains
Sea salt
Salsa
2 tomatoes, diced & seeded
¼ cup small diced onion
½ avocado, small diced
3 cloves garlic, press
3 culantro leaves, minced
1 tablespoon white vinegar
salt to taste
3 tablespoons extra virgin olive oil
DIRECTIONS

:

SALSA:
Combine all ingredients, except olive oil and avocado, in a bowl and stir together until well combined. Cover with plastic wrap and refrigerate for 30 minutes to let flavors develop. Right before serving add avocado & extra virgin olive oil, stir gently until well combined.
TOSTONES:
Peel plantain and cut diagonally into 1 inch slices.
Fry the plantain slices in olive oil, over medium heat, until golden in color and soften. Drain them in a plate lined with paper towels OR bake in oven
If you don't have a tostonera which is a press for making tostones, take a paper bag and place a plantain slice on it. Fold the bag over on the plantain slice and using a can, saucer or whatever you have on hand, press down on the plantain slice to flatten.
Dredge the flat plantains in a bowl of salted water and drop back into the frying pan (stand back because it will spit at you). Fry until golden and crisp, transfer to a plate lined with paper towels and sprinkle with salt.
Serve with fresh salsa!
Other Balanced Beauty ideas:
Make platain a cookie base, instead of white flour dough. Add dark chocolate chips or raisins to sweeten

Serve with all-natural maple syrup, as a pancake alternative

Serve with guacamole, instead of corn chips

Serve with lobster or ceviche for a gourmet party app

Top with cinnamon and eat with low fat yogurt for a post-workout recovery meal/snack

For a cheat meal- Load up with cheese and meats. Replacement for nachos.

Top with tomato sauce, low fat ricotta and cheese for a mini gluten-free pizza
Due to the consistency of the plantain and adaptable flavor, you really can use it as a great base for just about anything. Try a combo and send me your food photos- Would love to see some of your creations and favorites!
Lastly, NEVER BE AFRAID TO TRY NEW THINGS!… They just may wind up being your new favorite food!
Spice Up Your Life,
Coach Aly