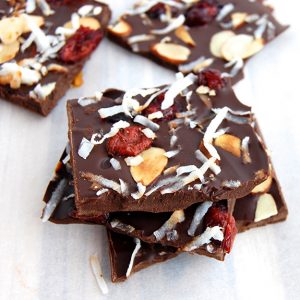 When it comes to Holiday Sweets, chocolate bark is one of the easiest to put together and makes a wonderful stocking stuffer!
You can also make many varieties with your favorite blends of nuts and fruits- And the best part is its PALEO, GLUTEN-FREE, and DARK CHOCOLATE has many antioxidant benefits. A piece will make a great sweet finish to the end of a delicious meal!
I LOVE these two recipe variations I discovered by Rebecca Bohl (PaleoGrubs.com). In the first, toasted macadamia nuts, dried apricots, and flaky sea salt give that sweet/salty combo. For the second combination,  sliced almonds, dried cranberries, and toasted coconut flakes make for a sweeter/crunchy bite….The only "cooking" that is required is melting the chocolate.
Roasting nuts and toasting coconut flakes before adding them to the bark will take the flavor to another level… Have fun making your own unique combinations!
---

Ingredients

:
1 lb. dark chocolate
1/3 cup macadamia nuts, chopped and lightly toasted
1/2 cup dried apricots, finely diced
1 tsp coarse sea salt
or
1 lb. dark chocolate
1/2 cup sliced almonds, lightly toasted
1/3 cup unsweetened dried cranberries
1/2 cup unsweetened coconut flakes, lightly toasted
---
Instructions

:
Line a 9×12-inch rimmed baking sheet with parchment paper.
Melt the chocolate over a double broiler, whisking until smooth.
Pour into the baking sheet and use a spatula to spread into an even, thin layer.
Sprinkle with the toppings of your choice.
Place in the refrigerator until set, about 30 minutes.
Remove from the baking pan and break into squares to serve… Store in the refrigerator.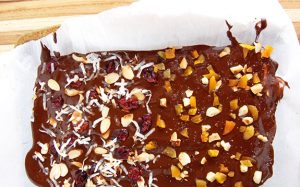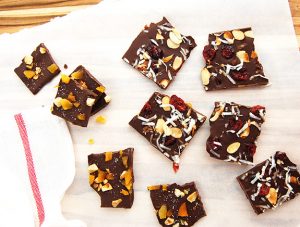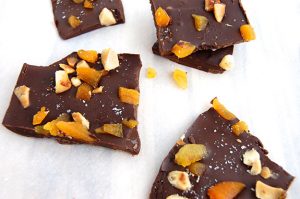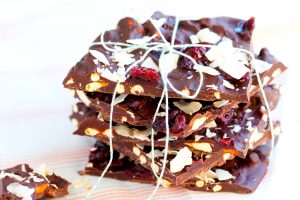 ---
TOP 10 Balanced Beauty Holiday Treat INSPO:
Eating healthy doesn't mean you have to omit the sweets- Especially around the Holidays! These are my TOP 10  healthier SWEET TREAT ideas for you to think about when crafting the perfect sweet ending to your holiday meals!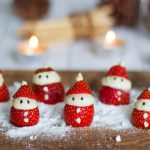 Strawberries & Cream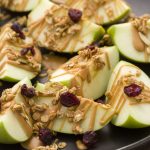 Apple slices with sweet PB drizzle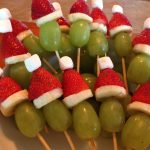 Fruit Santa/Grinch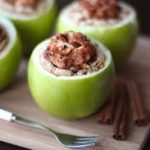 Oatmeal Apple Cups
 Watermelon Snowman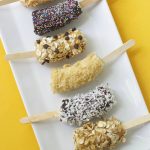 Banana Pops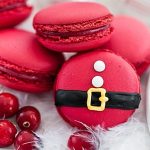 Macaroon Santas (Gluten-Free)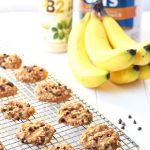 3 Ingredient cookies (PB, Oatmeal, Banana)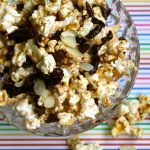 Baked Holiday Popcorn- This one especially great to make into balls, wrap and make into stocking stuffers- Like the chocolate bark, you can make your own sweet/salty combo!