I don't know about you, but this cold winter weather has me craving COMFORT FOODS!
This recipe is perfect to savor on a cold winter night. A blend of spice, sweetness and heartiness to keep you totally satisfied… All while being totally guilt-free (and gluten-free, as always)!
It's called "Chick-Chick" because the stars of this dish are chicken & chickpeas; a winning Balanced Beauty food combo.
I recommend making this for dinner, post evening work-out, as this is an awesome muscle recovery meal or pre-workout, as it includes slow-digesting carbs for all-natural energy!
Prep Time = 10 minutes, Cook Time= Approx. 25 minutes, Servings= 2
INGREDIENTS

:
10 oz Chopped Chicken Breast
2 t Olive Oil
1 Sweet Potato, peeled and diced
1 Red Onion
1 Meyer Lemon
3 Cloves Garlic
1 1/2 Cups Chickpeas, drained and rinsed
2 T Chili Spice Blend
2 T Tomato Paste
Salt & Pepper
1 Cup Spinach – I always throw greens of some kind into any of my chili mixes. A great way to sneak in the veggies for extra vitamins, minerals and folic acid! Veggies will absorb the flavor of whatever spices you are cooking with. Mushrooms also make for excellent addition, as they add some meaty texture and additional fiber while being very low-cal…sneak em' in!
DIRECTIONS

:
Preheat oven to 450 degrees
CHICKEN: In a large, high sided pan or pot, heat 2 teaspoons of olive oil on medium high. Add the seasoned chicken and cook, stirring occasionally; 4-6 minutes or until browned/cooked through. Season with salt and pepper, while cooking…When done, transfer to plate.
CHILI: Add sweet potato and onion to pan (as well as spinach or any other veggie add-ins). Season with salt and pepper. Cook on medium high, stirring occasionally; 2-3 minutes or until lightly browned and softened. Add the garlic, tomato paste, and spice blend. Cook stirring constantly, 30 seconds- 1 minute or until tomato paste is dark red and fragrant.
BRING IT TOGETHER: Add in the cooked chicken, chickpeas and add 2 cups of water. Season with salt and pepper, as needed. Cook, stirring occasionally; 10-12 minutes or until liquid has thickened.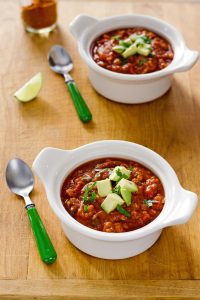 Top with avocado for a little coolness
Serve with a side of sautéed veggies, a salad, or brown rice. . .
Comfort food made healthy, Balanced Beauty-style!
---
* Balanced Beauty Tip: I loved Blue Apron's recipe idea for Chicken Chili with Currants and couscous. I used it as inspiration to make my own above recipe, which is gluten-free and a bit healthier… This is an example of how you can take an original recipe and make modifications, so you don't have to miss out on those flavors you love. Small tweaks and changes to recipes can make all the difference between achieving that dream body or not. You don't have to sacrifice foods and flavors you love… I am here to help you lose and win!
Have a favorite recipe you are unsure how to modify to make healthier, while still keeping original flavors?
Email: AMang@TheBalancedBeauty.com and I can try it out for you!
---
Thinking about trying a meal-delivery service? I recently tried Blue Apron. Here's My Balanced Beauty Review: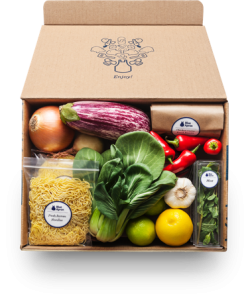 PROS:
Excellent for those of you who love to cook but lack the time to shop for ingredients during the day.
Sending exact portion sizes for ingredients is SUPER helpful for cooking and also to avoid waste. You make what you are going to eat. No worry about paying for produce that goes bad in your fridge after you are done cooking.
Healthy, all-natural ingredients from the earth- Total WIN!
Helpful guides and cooking tips. Love learning how to PROPERLY cook!
No need to think. SUPER HELPFUL when busy and multi-tasking with a full day.

Have a date?

I can imagine this is a really great way to cook and bond together. Would be a super cute idea to heat things up together in the kitchen…OR use it as a way to really impress your partner (..if you are a dude reading– This is a way to cook for your woman and nail-it)!

Like cooking with kids?

Great for a little chef in-training. Step by step guides would be a fun and great way to work through a recipe together.
Love how neat ingredients are packaged and shipped. Fun to open each box!
Easy. Efficient…and of course, delicious. The meals really are full of flavor and delicious!
CONS:
You don't exactly get to choose the meals you make. Each week the combo contains a meat a fish and a carb base– This isn't ideal for someone who does not like meat or can't or doesn't want to eat carbs (like noodles, couscous, etc)
I am gluten-free, so was unable to eat/use all ingredients
Meals are made with quality ingredients, but combos are not always healthy. I tweak recipes to make them work for my diet/tastes.
Overall– This is fantastic for someone who lacks time but loves to cook and try new things. The pros totally out-weight the cons…Especially for those of you who want to cook but don't know how. A great place to start and feel like a pro!