Happy Holidays Beauties!!!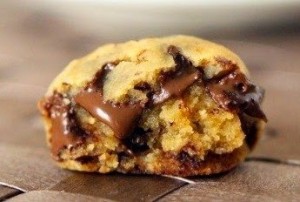 The #1 SWEET TREAT I crave, especially around the Holidays, are hot, gooey chocolate chip cookies right out of the oven!!!
Below is a recipe for delicious cookies with NO flour, oil, or white sugar! 
They are gluten-free, grain-free, dairy-free cookies made with CHICKPEAS, instead of flour! Perfect for my Balanced Beauties or for anyone looking for a vegan cookie recipe.
Health Benefits of Chickpeas:
High in fiber
Digestive support
Antioxidants
Regulate blood sugar
Decrease overall caloric intake
…And don't worry about over eating! 
Adding chickpeas into your diet may actually help you lose weight! There's now direct evidence about chickpeas/garbanzo beans and appetite! Participants in a recent study reported more satisfaction with their diet when garbanzo beans were included, and they consumed fewer processed food snacks during test weeks in the study when garbanzo beans were consumed. They also consumed less food overall when the diet was supplemented with garbanzo beans.
(I am not saying eating chocolate chip cookies will help you lose weight, but this is a great example of a healthy swap and how you can indulge that sweet tooth, without the guilt)!
Instead of depriving yourself completely or indulging in the wrong kind of dessert, make these delicious cookies to get that sweet craving you enjoy, while including some nutritional value and avoiding empty calories from other baked goods…
INGREDIENTS:
1¼ cups canned chickpeas
2 teaspoons vanilla extract
½ cup + 2 tablespoons all natural peanut butter or almond butter (room temperature)
¼ cup honey
1 teaspoon baking powder
pinch of salt
1 cup chocolate chips
Preheat your oven to 350°F
Combine all the ingredients, except for the chocolate chips, in a food processor and process until very smooth (Make sure to scrape the sides and the top to get the little chunks of chickpeas and process again until they're combined).
Add chocolate chips and stir or pulse once or twice. The mixture will be very thick and sticky.
With wet hands, form into 1½" balls. Place onto parchment paper.
If you want them to look more like "normal" cookies, press down slightly on the balls. They don't do much rising.
Bake for about 10 minutes.
The dough balls will still be very soft when you take them out of the oven. They will not set like normal cookies.
Store in an airtight container at room temperature (or in the fridge) for up to 1 week.
Note: Don't try with regular peanut/almond butter! They will come out too oily. You MUST use natural, which you should be using at all times any way!!!
If really watching your weight, remove the chocolate chips and add raisins or nuts instead. Mix up the recipe but use the chickpea base for a BALANCED BEAUTY treat that will satisfy you at the end of your meal and be a delicious part of your Holiday celebrating!
ENJOY and HAPPY HOLIDAYS!


"Extremes are easy. Strive for balance." – Colin Wright