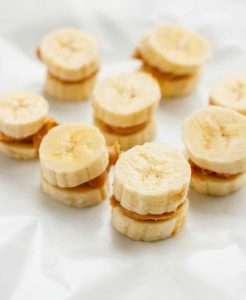 One of my favorite go-to snacks is any nut-butter with banana (peanut butter, almond butter, cashew butter, sun-butter, etc). This pairing satisfies that sweet-tooth craving, while keeping you totally on-track with health goals!
For a late night snack, I often recommend a frozen banana, to get that sweet-frozen-ice-cream-like texture…But I'll be honest– I typically put a whole frozen banana in the freezer and dip it straight into the jar! 🙂
Today's recipe is a more refined approach for this favorite snack… And in this one, we get chocolate in on the fun! Thank you Marie from "Not Enough Cinnamon" for this Balanced Beauty-approved featured recipe– Hope you all enjoy it as much as I do!
---
Frozen Chocolate Peanut Butter Banana Bites
You only need three ingredients – chocolate, peanut butter and bananas – to make these delicious healthy treats. They are super easy to make and always a hit with everyone!
Ingredients
3 bananas ripe but still firm
1/4 cup peanut butter or your favorite nut butter
10 oz – 280 g dark chocolate chopped. You can also use chocolate chips.
2 teaspoons coconut oil optional, but recommended!
Instructions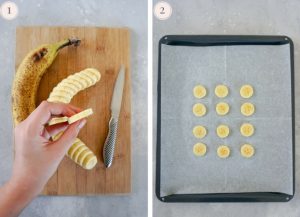 1. Cut banana into slices (about 1/4 inch – 0.7 cm each). Set aside half of the slices and arrange the other half on a baking sheet lined with parchment paper.
2. Heat peanut butter in the microwave on low/medium for about 30 seconds to 1 minute, stirring in between, until it's smooth and easily spreadable.
3. Spoon about one heaped 1/4 teaspoon (up to 1/2 teaspoon if the banana is large) on the banana slices you arranged on the baking sheet. Top with the other half of the banana slices you set aside earlier. Freeze for two hours.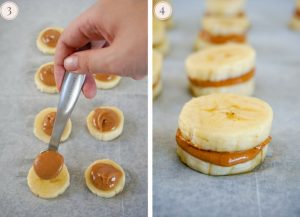 4. When the banana sandwiches are frozen, prepare the chocolate. Place chopped chocolate (or chocolate chips if using) in a microwave-safe bowl along with the coconut oil (it helps the chocolate melt and stay smooth).
5. Microwave on low/medium heat in 30 seconds bursts, stirring in between each, until chocolate is fully melted and glossy (watch carefully so the chocolate doesn't burn). If you are anti-microwave, melt chocolate on stovetop.
6. Prepare another baking sheet (or a plate) with parchment paper. Take two to three bites out of the freezer. One by one, dip them in the melted chocolate and using two forks, "roll" them in chocolate to cover all sides.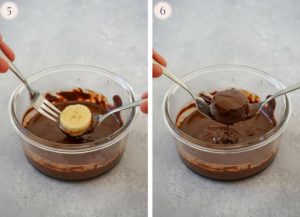 7. Remove excess chocolate and place on prepared baking sheet (watch the video to see the process – it's very easy). Repeat with remaining frozen sandwiches.
8. We are working with only a few bites at a time so you don't have to rush before they defrost and start getting mushy. If the chocolate is not smooth enough towards the end, remelt it in the microwave for 30 seconds or so.
9. Place the chocolate covered bites back in the freezer until set. Once they are set, you can transfer them in a container. Store in the freezer…Eat & ENJOY!
---
Recipe Notes
Tips:
Choose a banana that's ripe but still firm. If it's not ripe enough, it will be tasteless. If it's too ripe, it will be difficult to work with and will get mushy.
Coconut oil is optional but it makes the chocolate a lot easier to melt, work with and set. Use unrefined coconut oil to avoid the coconut taste.
If the chocolate starts to harden and it becomes more difficult to coat the sandwiches, re-melt it in the microwave for a few seconds.

Chocolate

: dark chocolate is "healthiest" option, but you can use semi-sweet or even white chocolate. Mix it up– BALANCE and everything in moderation is OK!

Other nut butters

: Peanut butter is my favorite to use with chocolate and bananas but you can use any nut butters like almond butter, cashew butter or sunflower seed butter.

Other fruits

: Other fruits, like strawberry, green apple, kiwi, and/or pineapple work great– Mix it up and enjoy nature's candy! 🙂
---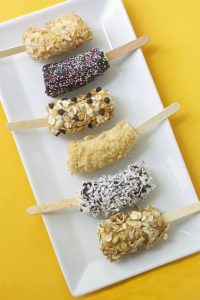 Do you have a favorite sweet that you would like to make a healthier recipe version for?
Do you have an amazing gluten-free dessert or recipe you would like to feature/share?
Do you have questions about certain ingredients or need product recommendations?
Email: Info@TheBalancedBeauty.com – Your recipes/ideas just might be featured next!
As always, follow @1BalancedBeauty on insta/twitter for healthy inspo and for other "Coach-Aly-Approved" meals and snacks!
---