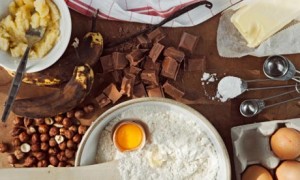 Thank you Blizzard Jonas for inspiring this new Balanced Beauty Recipe!
I had stocked up my kitchen with healthy food and snacks, but after being stuck inside all day, I just craved a baked good. Something sweet and delicious, but that would not totally derail the healthy choices I had made throughout the day….
What did I have???
I searched my pantry and came up with the below ingredients…The experiment turned out to be a MAJOR SUCCESS!
The coconut flour has a natural sweet taste; combined with the banana and dark chocolate… this is a total winning combo!!! I would describe this as a soft-delicate-sweet bite…Oh yeah, and it's FLOURLESS/GLUTEN-FREE, which is great for those of you wanting your sweets but watching your waistline…Remove the dark chocolate and this becomes a great breakfast cake or snack for any time of day!
INGREDIENTS:
1 cup Nutivia Organic Coconut Flour (great brand for organic/all-natural)
1/2 tsp sea salt
1 tsp baking soda
1 cup coconut milk
3 eggs
1/2 stick butter, softened/melted
4 tsp vanilla extract
4 ripened bananas, smashed (For BEST RESULTS: Wait until spotty and brown for maximum, all-natural sweetness)**
Dark chocolate pieces (I recommend Ghirardelli)
If baking as dessert, add 1/2 cup coconut sugar
Optional: Singing and Dancing- Pour some love into your food!!!
DIRECTIONS:
Preheat oven to 350 degrees
Combine all ingredients in a bowl
Pour into greased cake pan
Bake for 45-60 min (or until brown all over) Note: Coconut Flour stays very soft, unlike regular cake which gets crumbly or hard. Don't be afraid to cook outside until darker brown color, as you want to ensure the inside is cooked through
Rest until cool
Serve alone or if as a dessert, add a scoop of all-natural, vanilla ice cream with sliced bananas on-top for garnish!
BALANCED BEAUTY TIP:
Never be afraid to experiment and try new things in the kitchen. Combining some of your favorite flavors, may lead to a new favorite recipe!

…Hope you all enjoyed the storm as much as I did!
xo Health & Happiness,
Coach Aly