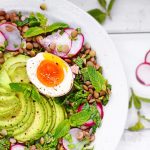 If you are ever in need of a hearty salad, this is one of my favorite Balanced Beauty combinations… It's flavorful, simple, and has a touch of both sweet and salty flavors! It is completely filling on its own or it can be used as a perfect side to any protein.
Lentils are legumes which are high in dietary fiber at 16 grams per cup ( brown rice contains just 2 grams in a cup). They are also a great source of protein! This salad is perfect for those who are gluten-free, vegan/ vegetarian, or those trying to lose weight, as it will definitely keep you full and satisfied!
---
INGREDIENTS

:
Spinach
Cooked Lentils- Warm
Sliced red, yellow and orange peppers
Feta (or favorite cheese substitute)*
Cubed Avocado
Sliced Green Olives
*Dressing can be found at Trader Joes or is simply made of following ingredients, which you can easily add in / make on your own: Water, Apple Cider Vinegar, Green Onions, Lemon Juice, Chives, Parsley, Olive Oil & Extra Virgin Olive Oil blend, Basil, Garlic, Sea Salt and Black Pepper.
---
DIRECTIONS

:
Pre-cook lentils, season as desired (I use olive oil, salt & pepper)
Put into large bowl, mixing in spinach leaves as desired
Continue mixing adding in all other ingredients
When ready to eat, pour in and mix dressing
Serve warm/room temp or refrigerate to serve chilled — Works as both a warm or cold salad!
*Add radishes or other veggies to add bright, vibrant colors- The more colorful, the more health benefits and happier you feel!
---
All recipes are designed with YOU in mind!
Simple ingredients. Easy to make… ALWAYS flavorful- ALWAYS gluten-free & ALWAYS Balanced Beauty approved, to help you lose weight, stay on-track with goals and feel great!
Questions? Comments?
I LOVE hearing from YOU!

Email: Info@TheBalancedBeauty.com