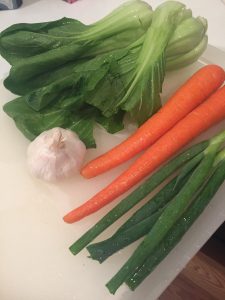 When you are trying to eat a balanced diet and lose weight, a typical lunch or dinner option would include: Chicken, Veggies and Rice.
B-O-R-I-N-G!
In The Balanced Beauty kitchen, I want to help you take that standard combo and kick-it up a notch! There is no need to sacrifice great tastes and flavors just because you are trying to lose weight. There are plenty of ways to prepare your food, using all natural ingredients and spices.
The recipe below is Asian-inspired, from Blue Apron. If you are not someone who typically likes asian flavors, I recommend giving this one try because this particular preparation is SO FLAVORFUL and DELICIOUS that I had to share it… Be open minded and try new things!
Prep Time: 10 minutes, Cook Time: 20-30 minutes, Servings: 2
INGREDIENTS

:
2 Boneless, skinless chicken breasts
1/2 Cup Jasmine Rice
2 Large Carrots, shredded
2 Cloves garlic, peeled and chopped (use fresh)!
2 Scallions, chopped
1/2 lb Baby Bok Choy
3 Tbsp Yakiniku Sauce (this makes the dish)*
1 Tbsp Rice Vinegar*
1 Tbsp Mirin*
1 Tbsp Sesame Oil*
Olive Oil
Salt & Pepper
*These ingredients can be found in any whole foods, all-natural market or in the asian food isle of your local super market.
DIRECTIONS

: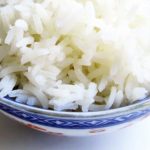 COOKING THE RICE:
In a small pot, heat 2 teaspoons of olive oil on medium-high, until hot. Add the chopped garlic; season with salt and pepper. Cook, stirring constantly for 30 sec-1 minute. Add the Jasmine Rice, a pinch of salt, and 1 cup of water; heat to boiling on high.
Once boiling, cover and reduce the heat to low. Cook for 12-14 minutes or until all the water has absorbed and rice is tender. Turn off the heat and set aside on a warm plate.
MARINATING CARROTS:
While the rice cooks, in a medium bowl, combine the carrots, miring, sesame oil, and vinegar. Season with salt and pepper. Set aside to marinate, stirring occasionally, for at least 10 minutes. Season with salt and pepper to taste.
COOK & GLAZE THE CHICKEN:
While the carrots marinate, clean and season your chicken with salt and pepper. In a medium, non-stick pan, heat 2 tablespoons of olive oil on medium heat until hot.
Add the seasoned chicken (chicken can be chopped for stir-fry or left as whole chicken breasts). Flip and cook until lightly browned and cooked-through.
Add the yakiniku sauce and 1/4 cup of water. Cook until the chicken is coated and cooked through. Transfer chicken to plat (leaving remaining sauces in pan).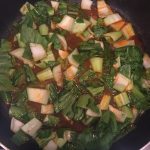 COOK THE BOK CHOY:
Add the bok chou directly into the pan of the leftover glaze sauce. Add in the scallions and liquid from the carrots marinade (should be able to pour out of the bowl). Add 2 tablespoons of water. Cook by stirring on high for 4-5 minutes or until bok chou stems are wilted. Turn off the heat.
PLATE YOUR DISH:
Divide the cooked rice, glazed chicken, and cooked bok choy between 2 dishes. Top with the marinated carrots (draining before adding). Enjoy!