KICKING OFF THE NEW YEAR WITH A PERFECT, HEALTHY COMFORT-DISH!
The only thing better than delicious, filling, easy-to-make comfort food in the winter- is knowing it's also GUILT-FREE & TOTALLY HEALTHY!
I have taken a classic meatloaf recipe and have made it SUPER simple, SUPER healthy, & of course, Gluten-Free- The result is outstanding!!!
Loaded with protein, veggies, and nutrients- with just 5 simple steps, your family will think you are chef of the year. SOOOO GOOD!!!
*Posting on Saturday night- as this makes for an excellent #SundayFunday Recipe or Game-Day Food!
---
INGREDIENTS

:
1 lb lean ground turkey
1 large egg
1/4 cup ketchup
1/4 cup mustard
1/2 small onion, finely diced
1/2 small zucchini, chopped
1 medium carrot, chopped or shredded
1 cup gluten-free breadcrumbs
1 tsp salt
1/2 tsp black pepper
DIRECTIONS

:
Preheat oven 350
In a large mixing bowl, blend all of the ingredients
Press the meat-mixture into a load or 8×8 square pan
About 1/2 way through baking- Brush the top with BBQ sauce
Bake for 1 hour… Serve hot and enjoy (….Yes, seriously– That's it!!!)
---
Since this is not-ya-Grandmama's meatloaf— My sides are also a little bit more on-trend than your typical meat & potatoes recipes of the past….
Rosemary potatoes-

Made in an AIR FRYER! Cooking with an air-fryer, instead of frying in oil or butter, will cut your fat and calories by 70-80%!!! It's an easy, heart-healthy approach, which also keeps the integrity, original flavors and nutrients in your veggie/food in-tact! If you make one kitchen investment this year-I'd make it one of these babies. If you have a small kitchen or need a "second oven," especially when entertaining guests, this is especially worth the investment.
Shishito Peppers- lightly toss with olive oil, garlic, and sea salt– Sautee on a pan on high-heat until blackened… YUM!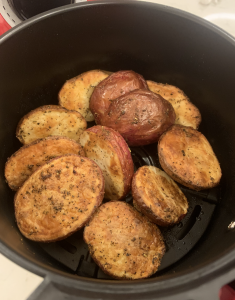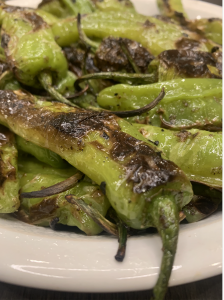 ---