A half or full marathon
is one of the most challenging, yet
rewarding
events you can participate in. Thousands of runners come together each year to test their limits! While physical fitness is extremely important, a fit and healthy
mindset
is also a crucial component in crossing the finish line.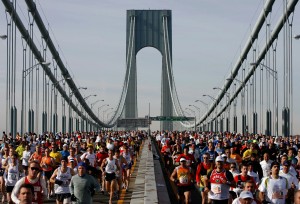 ING NYC Marathon, Verrazano-Narrows Bridge
In my personal experience running the
ING NYC 26.2 Marathon
, the race was 10% physical and 90%
mental
. While I trained efficiently and used a structured meal plan to stay healthy, if it wasn't for my constant visualization and positive way of thinking there was NO WAY I could have achieved this goal! It didn't matter how fit or "in shape" I was… If I did not have the
heart
to run this, I would have been '
done'
 after running across the first uphill battle, the Verrazano-Narrows Bridge, after
Mile 1! 
Many of you may be intimidated by the distance, thinking
26.2 miles?!
…The truth is, the instant you decide it is something you
WANT
to do, I believe you
CAN
do it!!! It does not matter if you are a beginner or an advanced runner…All you need is to dedicate yourself to a training program and your desire and positive attitude will then help you the rest of the way!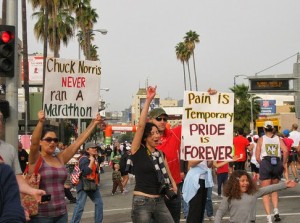 You've got to love the amazing spectator signs, like these!
There are
countless
reasons to run a marathon, the most popular being running for a cause or charity, checking it off a "
bucket list,
" running to make friends or get in shape… but no matter what the initial reason is, you are investing in
yourself
saying, "
I believe in YOU. Let's do this!
" It is one of the
ultimate
tests of endurance, strength and heart.
Marathons are inspiring events where cities and people from all over the world come together. The energy is amazing! Countless of people gathered along the race-route cheering, passing out water and using one voice to promote love, support, and encouragement to every runner that passes by. As you run, the message around you is clear: I believe in YOU!!! It's hard to not tear up and get emotional throughout the race route. The event is powerful and the loving energy you feel definitely helps fuel the run!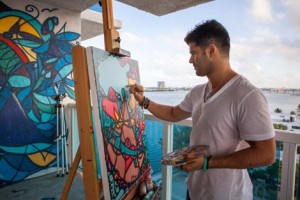 Celebrity Painter, Alex Mijares in action
When my friend Alex saw my completion of the
NYC Marathon
we connected, as he was contemplating running in the
Miami Marathon
after just being asked to design the artwork for the finisher medals. He asked, 
"I want to do this but is it even possible?! 26.2 miles…I am not a runner. Is it something I could train for and do?!"
…
My answer,
"
ABSOLUTELY
!!!!"
Alex had the
desire and motivation to run
the marathon; all he was lacking was the knowledge and "plan," of where to start,
which is where I came in! 
From this point, I was Alex's Coach and a training schedule and program was set-up that would ease him into the "
running mindset,
" so that by the time February came along, he would be in great shape
mentally
and
physically
to tackle and achieve this massive goal!
Alex is known as a
celebrity
painter
and has an
extremely
demanding
schedule, often traveling around the world. Half-way through our training he was on an expedition to
Haiti
where he painted murals for the youth (
Project Angel
) and
Art Basel
, one of the world's premier modern and contemporary art shows, held annually in Basel, Miami Beach took place, where Alex's art was showcased.
Despite these commitments, in addition to creating the artwork for the 25,000 finisher medals, Alex stayed focused with his runs and training schedule. He wanted his fans to know if he could do it, they could too. For him, the run was a dedication to his 62,000+ followers! It was about setting what seemed to be an impossible goal and seeing it through.
Since Alex
had no prior training or race experience
, we wanted to build his muscle memory, get him on a proper "
fueling
" diet plan, and set the goal to increase/cycle mileage from week to week. It was important to build mileage in a safe, effective way to
avoid any injuries while training. 
Alex set the goal in
November
and crossed the finish line this past
February
in a little over
4 hours
…An
amazing
time for even an experienced runner!
Check out this exclusive interview with Alex:
Learn how he set this monster goal and achieved it!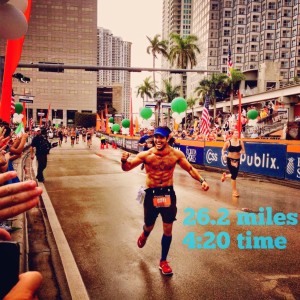 3 months discipline & training = 4 hr 20 min completion time!
Why did you decide to run in this marathon? 
I decided to run the marathon because I designed the neck ribbon for the finisher medals. I wanted to be the first artist to ever design for and run in the race!
Did you have any previous running experience? 
The only running I ever did was during sports and mostly during high school. I have not really had any running experience these last few years.
As a non-runner, were you scared? What were your concerns?
Yes
, I was! In the beginning, I was all hyped-up focusing on designing the artwork for the medals and I was like, "I got this!"…I felt confident. Then injuries started, like calf problems and an issue with the top of my foot… That's when concerns like, "
did I bite off more then I could chew
" started." But after the first month of training all of these doubts and concerns went away because my muscles got used to the running.
Having a Coach to talk to throughout the process was definitely a relief, especially when taking on a huge goal like this. It's great to learn tips and tricks and to have someone to talk with about all of the injures, problems, discomforts etc. and how to keep moving forward.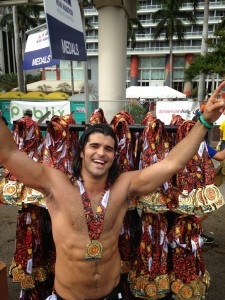 Celebrating with his artwork!
What was training like in the beginning?
Low mileage runs, working out the core muscles to build-up strength, and to get my legs used to running. Since I never really ran, my first run was a little tough but I pushed myself to do 5 miles and then we went from there.
What helped you the most during your long runs?
My
music
, my thoughts and my
weekly coaching Emails
! The Emails were filled with great tips, inspiration and motivational quotes, which was awesome… Once I was running, Emails had me focused on happy thoughts and things I was thankful for, which definitely helped me stay positive and pass the time.
What did you eat to properly fuel your body during training?
Lots of chicken, fish, brown rice, vegetables etc. I have always had a healthy diet but I did eat lots of carbs before and after long runs, which was awesome!!! Pasta!!!!
So good
!
Did you feel you had to sacrifice your social life or work to train?
Definitely not in the beginning. There was no issue because I stuck with morning runs. This gave me no excuses not to run in the afternoon with work and painting etc. Towards the end yes, because Friday nights became early to bed and 5am runs on Saturday morning… but after that it was off to the beach with friends and relax.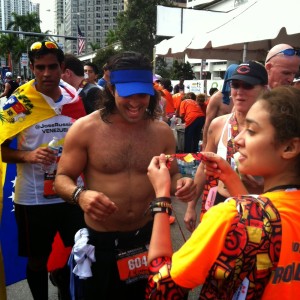 26.2 Miles COMPLETE!
What tips would you share with other non-runners? 
It's an amazing feeling once you finish! It definitely says a lot about you to fight and overcome a big obstacle -definitely worth it. In the beginning, you will get bored just running and you will find excuses not to but just fight through it! It will get easier and more fun as you go alone… the longer runs eventually feel so good when you finish and you just become a happier person.
How do you feel looking back at your training?
I think it was great! I got my weekly schedule, which I tried my best to maintain. I really began my training in November, so I had Thanksgiving, Christmas, etc. all the holidays… so it was difficult and I did miss some runs but I just kept working to stick with the schedule and it was ok.
What stands out the most about your experience working with Coach Aly?
She was always there for me at any time to answer my questions and was super fun and energetic!!! I mean, she trained me through a cellphone and Email, which was amazing!!! Every week she was right on-time with my Email sending weekly tips, tricks and motivation!!! She was super supportive and got me all pumped-up every time we spoke!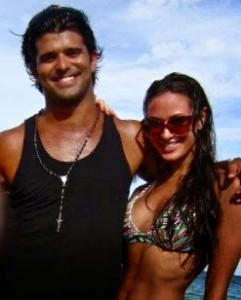 Alex & Coach Aly- Miami Beach
Would you recommend working with a Health Coach to anyone considering running in a marathon? 
Hell yes! This was definitely what got me ready for the race… There are just too many factors that play in the long run of 26.2 to just do it on your own… I was not a runner and I went from not running to completing a 26.2 mile run!

What recommendations do you have for anyone thinking of running a marathon?
Don't get discouraged and make sure you have plenty of time to train to get all the 'kinks' out (if you are a new runner you will get them lol). But if trained properly and have the correct gear, you will do great!!!
How did you feel the morning of race-day?
I couldn't sleep at all haha I was super excited and also nervous… The weeks before in my training, I ran up to 22 miles so I knew I could do it, but it was the first time I ever did a race so I was just nervous as I didn't know what to expect.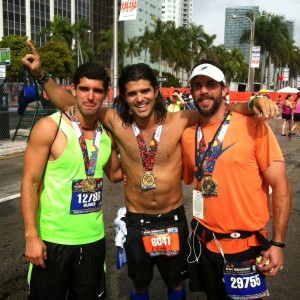 Celebrating at the finish line with family & friends
Tell us about the race! What stands out the most and do you have any tips? 
Race day came and I was pumped!! It was a lot hotter then the day I ran the 22 miles… It was 55 degrees when the race began but I was ready!!
I was cruising but at Mile 15 the temperature got to 89 degrees… It was so hot and runners were dropping like flies. Suddenly, I got super dizzy and walked about 20 feet and found another runner and asked for help, "this is my first run and I almost just collapsed what do I do?" She said, "keep your eyes up and don't look down, just look at my back. You are overheated and you need to cool down." So we got to the water station and I basically showered my self in water and chugged Gatorade! After that, I felt alive again! I was a little dizzy from heat but I knew I was going to finish! I was trained properly. I was not going to let the heat win this battle!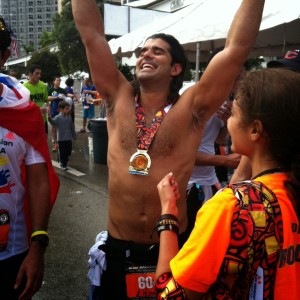 Bucket-list checked! A tribute to my followers!
Mile 15 to 26.2 was the hardest fight I have ever had in my life but I was determined to keep pushing. All the crowds cheering us on gave me the adrenaline I needed to keep fighting. Thank god I was mentally ready for this because I was able to push on all fronts!
When I saw that finish line my legs almost buckled because I was so happy!!! As I crossed the line, my hands went up in the air and I began to tear up.. I had done it!!! It was an incredible feeling especially once they put my own ribbon with my artwork around my neck!!!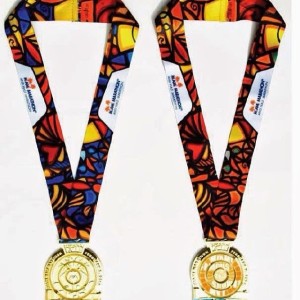 2014 Miami Marathon Finisher Medals
Tell us about how it felt to cross the finish line!
It was incredible and very emotional… I was happy! Laughing! Crying!! This was a huge accomplishment! And the reward was incredible!!! For a non-runner this was the hardest thing I have ever done, especially because of the temperature! As a whole, the experience was difficult but amazing to complete and check off my bucket list! The medal now proudly hangs high in my studio / gallery!
Alex has every reason to be proud of the finisher medal and all it symbolizes!
If you follow Alex's artwork you will see he often paints murals of angels and if you look closely, you can see angels in every piece of art.
Check out Alex's Facebook Page and Instagram!
Through his creativity and positive mindset, Alex's story represents
The Balanced Beauty's
core mission and values, which is to always
put your best foot forward, believe in yourself and SHINE!
Being the best version of
you
brings out your ultimate happiness and also inspires
others
to do the same!
In many ways, Alex's artwork and marathon story is his own "
angel-like
" way of
helping
and
motivating others
. We wanted to share this personal story in the hope it triggers 
YOU
to set some "
impossible"
goals of your own!
Check out Alex on Instagram: @mijaresart
and
Facebook.com/mijaresArt
. In addition to his angels, you will also love his
ballerina
sculptures-
Total
Balanced Beauties
!!!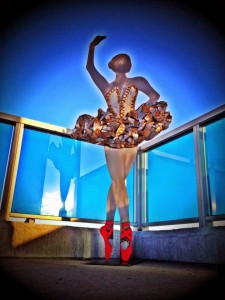 "Be the BEST version of YOU!
…The Balanced Beauty!"
Do YOU have what it takes?
Exhilarating
.
Inspirational
.
Life-changing.
These are all words I use to describe my personal marathon experiences and based on this interview, you can see Alex would definitely
agree
!
If you are interested in training together for an upcoming race: Email Info@TheBalancedBeauty.com
Together we will create a personalized, safe and effective program designed to build your endurance and ignite the fire needed to cross that finish line! It is my mission to keep you accountable to your goal and will enjoy cheering you on the entire way through!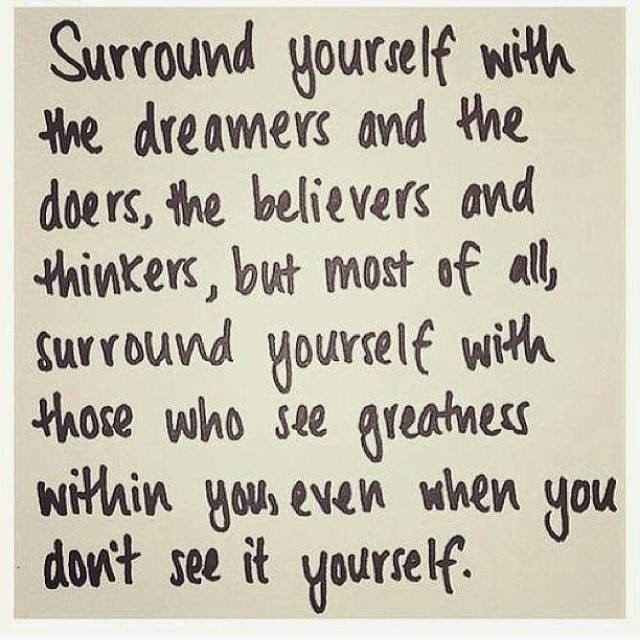 NOTE:
While The Balanced Beauty Health Coaching Programs are focused on
women's
health, the marathon training program is for both
MEN
and
WOMEN
!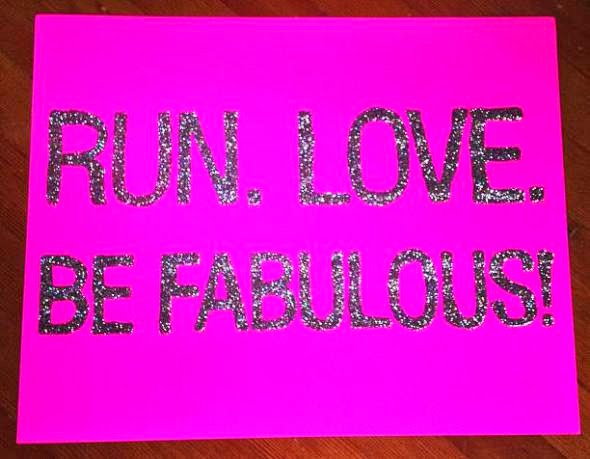 A PERFECT sign for all my Balanced Beauties!!!!