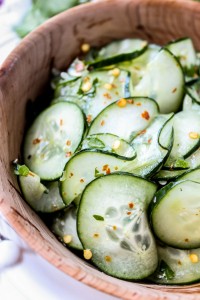 As the seasons change, so should our diet!
In the Spring, I encourage you to start selecting foods that are light, crisp, fresh and cleansing.
Cucumbers are a top Balanced Beauty pick year round, but I especially love to eat them in the Spring and Summer months. Below are some reasons why, along with a simple salad recipe that is delicious, low carb, low cal and simply amazing for that bikini bod!!!
HEALTH BENEFITS:
Made of 95% water- extremely hydrating and cooling
Works to fight inflammation throughout the body
Low in calories, high in fiber- Excellent for weight-loss and digestive health
Packed with vitamins, enzymes, potassium and unique polyphenols, which reduce your risk of chronic diseases
Can help remove bacteria in your mouth- Use as an all-natural breath freshener
Contains multiple B vitamins, which helps to boost mood and reduce anxiety/stress
Can be used as a diuretic… Ladies, boost your cucumber intake prior to your monthly cycle to reduce water weight/ bloat or before hitting the beach… This is a flat-belly food!
Whatever you don't eat- Use on your eyelids to reduce puffiness
COOLING CUMBER SALAD RECIPE:
INGREDIENTS:
1½ large English cucumbers
1-2 tsp Salt (for salting the cucumber)
4 large green onions
2 Tbsp fresh cilantro or dill, chopped (depending on flavor preference)
¼ cup fresh lemon juice (or use a good quality bottled Lemon Juice)
¼ cup Extra Virgin Olive Oil
1 tsp lemon zest
Fresh cracked Pepper, to taste
DIRECTIONS:
1. Slice cucumber very finely (I like them around 1/8" thick). Sprinkle liberally with salt and let sit in a colander in your sink for 1 hour.
2. Rinse cucumber thoroughly (taste a piece to make sure you've rinsed all the salt off). Let the cucumber slices drain on paper towels or a clean tea towel to dry completely.
3. Slice green onions. Finely chop cilantro. Finely zest lemon. Combine onions, cilantro or dill, lemon juice, lemon zest, olive oil and cracked pepper and stir to combine.
4. Pour dressing over the cucumber, stir to incorporate and serve!
You can refrigerate this salad for several hours up to overnight; simply give it a stir to redistribute the dressing before serving. You can also turn this simple salad into a more filling meal by adding in avocado, chickpeas, feta, olives, chicken…The possibilities are endless!
Optional: Add in some red pepper flakes for a kick!