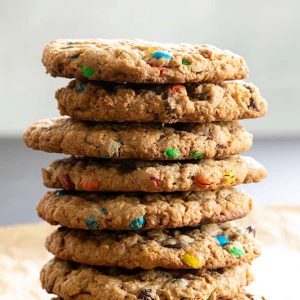 I have lost count of what day in quarantine this is… In some way, this is a good thing!
We are typically so caught up with schedules, dates, and plans– Always rushing to the future and not being present, in the moment of each day. Overthinking, planning and stressing is one of the number one causes of anxiety….
This quarantine period, I have been spending more time in the kitchen; making breakfast, lunch, dinner, snacks… and my favorite- BAKING!
Baking is an activity that often brings up feel-good, relaxed, comforting feelings for many. During this time, it's been a helpful way for me to tackle any feelings of stress or anxiety, and help me stay present, joyful and even spark creativity. I love taking recipes, tweaking them and making them my own…especially making "healthier" or gluten-free versions of classic recipes.
If you are home with the kids, baking can also be a great activity to keep their attention and stay occupied. Picking a recipe where decorating is involved can help stretch the time and it can even be educational…
Following steps of a recipe can be a great opportunity to teach lessons of reading comprehension, measuring, learning the science behind baking (how ingredients work and mix together), and about all the basic kitchen fundamentals…the best place to teach "Home-Ec" is at home! It's also a great opportunity for them to use their imagination and get CREATIVE!
Today, I looked at the ingredients in my cupboard and thought, I LOVE Chocolate Chip Cookies…Love Oatmeal cookies…Love Peanut Butter cookies….Why not mix it all together and create ONE AWESOME COOKIE?
I hope these "Mash-Up Cookies" brighten and sweeten your day!
I recommend keeping it clean throughout the day but then allowing yourself a little all-natural, fresh-baked sweet-treat. Never deprive yourself… Everything in BALANCE and moderation!
---
INGREDIENTS:
4 1/2 Cups Gluten-Free Rolled Oats

IMPORTANT NOTE: Process 1 1/2 Cup into a fine powder so you have both full oats and fine oats. This will allow the cookies to bind like regular dough and to keep from falling a part.

1 Teaspoon baking powder
2 Tablespoons corn starch
1/2 Teaspoon salt
2 Sticks butter
2 Teaspoons pure vanilla extract
3/4 Cup Granulated Sugar
1/2 Cup Packed Light Brown Sugar
2 Large eggs
All-Natural Chocolate (I had semi-sweet chocolate chips and m&ms so I used those…epic choices)
1/2 Cup Peanut Butter (or nut butter/butter substitute: cashew, almond, sunbutter, etc)
Crunchy outside and gooey inside– Perfect for dunking!
---
DIRECTIONS: