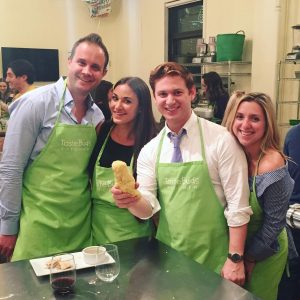 Taste Buds Kitchen is a fantastic place to learn, laugh and cook! I had the pleasure of checking them out yesterday evening for my cousins fabulous, cooking Birthday party!
The best part is, the class is BYOB, giving us all some liquid courage to take on the entire cooking process. The wine even went in our food… (don't worry, it was part of the recipe)…SO good!
Today, I am sharing the handmade pasta recipe for Spinach Ricotta Ravioli and their DELICIOUS Homemade Tomato Sauce.
If you don't want to make your own pasta, at least try the ricotta filling and the sauce. Both contain simple ingredients and steps!
I LOVED this experience because cooking from scratch, with all-natural ingredients, is always healthiest for your body. Laughter and love also are the best ingredients when cooking and enjoying any meal!
PASTA DOUGH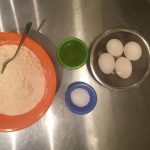 INGREDIENTS:
2 1/2 all purpose flour*
3 Eggs
1 T olive oil
1 T salt
3-4 T water
*I substitute with gluten-free all purpose flour

DIRECTIONS (serves 4):
Measure flour and form a well in the middle
Add salt- then oil- then eggs
Using a fork- gently whisk eggs, oil and salt together, while slowly incorporating flour. Once flour and eggs are combined, add more flour little by little to form a ball that is no longer sticky to the touch.
If dough is dry- add water, 1 teaspoon at a time
Knead dough for 8-10 minutes (dough should feel very tight and should bounce back gently when pressed)
Wrap in plastic and let sit for about 20 minutes in the fridge before using.
Roll pasta dough by hand with a rolling pin until very thin and cut into desired pasta type, using a clean ruler for even noodles (if you have a pasta machine/maker this makes the pasta creation easier)
Cook pasta in boiling water for about 10 minutes. If making raviolis wait until they float- about 2-3 minutes- they are finished!
Serve, savor and enjoy!
SPINACH RICOTTA RAVIOLI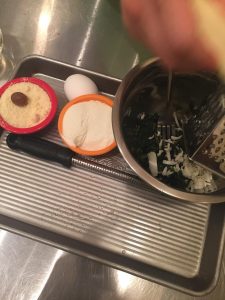 INGREDIENTS:
1 C ricotta cheese*
1/2 C mozzarella, grated*
1/4 C parmesan, grated
1 egg
1 C spinach, frozen
Pinch nutmeg
1/4 t salt
Pinch pepper
*For healthier version, use part skim ricotta and cheese. Both are excellent forms of Vitamin D and a great way to add protein to your pasta.
DIRECTIONS:
Comine all ingredients in a bowl and mix well with an immersion blender
Drop tablespoons of ricotta filling onto a flat sheet of pasta dough, spaced 1 inch apart. Using a brush or your finger, wet pasta area around the filling.
Roll out another flat piece of pasta dough and cover filling. Using your hands pinch the dough around the filling, making sure to get rid of any air pockets and seal tight.
Use a cookie cutter or a knife to cut out the raviolis. Pinch the exes of each ravioli with the tines of a fork.
Set aside each ravioli on a plate lightly dusted with flour. Do NOT stack the raviolis, because they will stick together
When you are ready to cook the raviolis, add them to boiling water. When the raviolis float, about 2-3 minutes, they are finished cooking!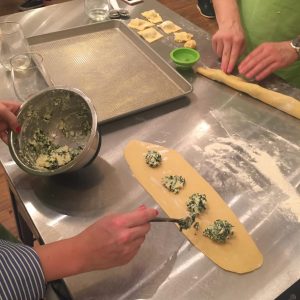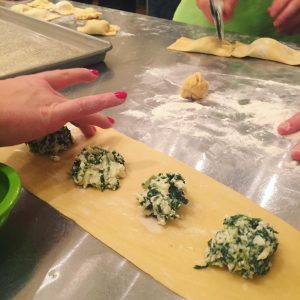 TOMATO SAUCE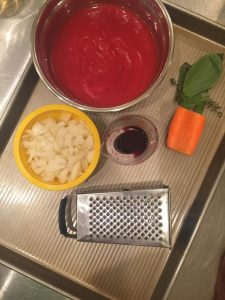 INGREDIENTS:
6 C tomato sauce OR 2 (28-ounce) cans or jars of whole, crushed or stewed tomatoes & 1 (6-ounce) can or jar of tomato paste
1 Onion
4 Garlic cloves
1 C carrots, grated
2 T basil, fresh
2 T parsley, fresh
2 T thyme, fresh
1/4 C olive oil
1 t salt
1 1/2 T red wine
DIRECTIONS:
Dice onion and garlic
Heat olive oil in saucepan, add onions and garlic
"Sweat" onions and garlic until translucent
Add carrots, tomato sauce and red wine
Chop herbs and add to sauce
Let simmer for about 30 min
Puree sauce in blender for a smooth sauce, or you can leave it chunky
BALANCED BEAUTY TIP:
Start with making dough
While dough is setting in the fridge, make your tomato sauce
While sauce is simmering, make ricotta filling
When filling is complete, roll out dough and make pasta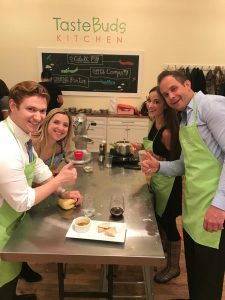 A big THANK YOU to Taste Buds Kitchen
for the fun and delicious learning opportunity!