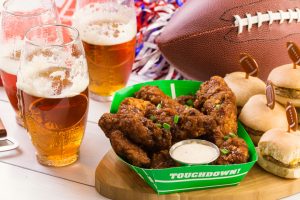 When I share recipes, they are always with the goal of trying to take the foods you love and enjoy and make them gluten-free and healthier…
I am all about BALANCE, by eating clean and allowing for some cheats, but I also love when we don't even need the cheats because  meals, snacks and desserts are taking the flavors we love, but are using ingredients and cooking methods that are totally Balanced Beauty approved!
All Balanced Beauty recipes are designed to help you feel satisfied, hit that food craving for salty, sweet and delicious while always staying on-track with larger wellness goals of losing weight, getting lean and eating from the earth.
---
BUFFALO WINGS are a party favorite– I for one, absolutely love a crunchy, well-done wing, loaded with buffalo sauce….But they are typically fried, not always gluten-free, and sometimes if eating as an appetizer or among a spread of tons of food- you may not want to eat all that protein and get full before even getting started on other goodies…
These Buffalo Cauliflower Bites solve these issues!…. And if made in the air-fryer (if possible) are truly a WINNING pick– especially as a SUPER BOWL SNACK. With the below recipe, you get the same great flavor, crunch and feel of eating wings, but cooked and created in a much healthier way.
---
BENEFITS OF COOKING WITH AN AIR-FRYER:
Air fryers work by circulating hot air around a food item to create the same crispiness fried foods.
Air fryers accomplish this by removing high-fat and high-calorie oils from the cooking process.
By using just 1 tablespoon of cooking oil (rather than multiple cups) a person can produce similar results as they would with a deep fryer with a fraction of the fat and calories
NOTE: If you don't have an air-fryer, the below recipe still works great by simply baking in the oven *
---
INGREDIENTS:
3 Eggs, beaten
Gluten-Free Panko Breadcrumbs
1 head Cauliflower chopped into bites
For Buffalo Sauce:
2/3 Frank's Red Hot Sauce
1/2 Butter (or Ghee)
1 tsp. Worcestershire
1/8 tsp Garlic Powder
1/4 cup Distilled White Vinegar
Salt & pepper to taste
DIRECTIONS

:
Take cauliflower and dredge in egg batter
Dip in Gluten-Free Pano Breadcrumbs to coat
Place in Air-fryer (or Bake in oven on 350) to cook until crunchy
As bites are cooking, prepare your sauce by mixing ingredients together and bringing to a boil (approx 10 min)
Coat Bites with buffalo sauce, serve and enjoy… (You can also store in fridge & eat cold as a great snack)!
NOTE: You can make these bites without the Panko breadcrumbs– But this is what gives you that "CRUNCH" and makes each bite extra satisfying 😉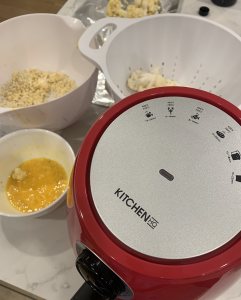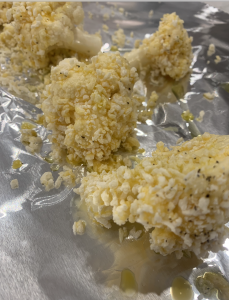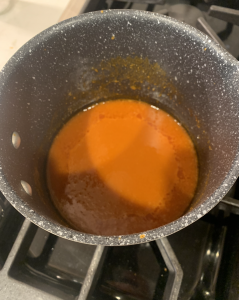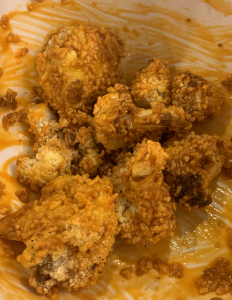 SIMPLE INGREDIENTS, EASY / FAST TO MAKE, & DELISH!!!